The Website
The personal site of astronaut and American icon Buzz Aldrin

Project Overview
Buzz Aldrin selects Warbasse Design to review his biographical site and implement changes that will provide a more complete user experience.


Implementation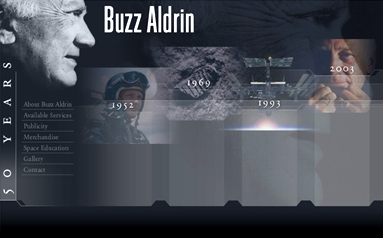 Current databases and website are updated using ASP .NET to bring all the pages on the server into the same environment,
Robust hosting and email strategies are launched that secure all confidential client information,
Special web applications are installed to track and measure user behavior for each PR or News event.
Client Services
Design consulting,
Database development and integration,
ASP .NET hosting platform,
Secure email gateways,
Tracking engine and reporting tools.


Results
The 1969 moon landing by Neil Armstrong and Buzz Aldrin marked the largest worldwide television audience in history with an estimated 700 million viewers. After our work on buzzaldrin.com, viewership skyrocketed from approximately 894,116 viewers per week in 2006 to 2,453,933 viewers per week in 2007. Now, the site is on "auto-pilot" and ready to reach another 700 million visitors by 2012.


About Buzz Aldrin
In October 1963, Buzz was selected by NASA as one of the early astronauts. In November 1966, he established a new record for Extra-Vehicular Activity in space on the Gemini XII orbital flight mission. Buzz has logged 4500 hours of flying time, 290 of which were in space, including 8 hours of EVA. As Backup Command Module Pilot for Apollo VIII, man's first flight around the moon, he significantly improved operational techniques for astronautical navigation star display. Then, on July 20, 1969, Neil Armstrong and Buzz made their historic Apollo XI moon walk, thus becoming the first two humans to set foot on another world. This unprecedented heroic endeavor was witnessed by the largest worldwide television audience in history.